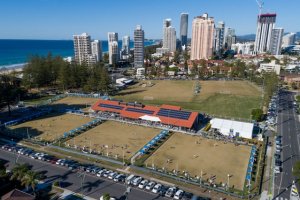 There is too much to miss happening in Broadbeach this June, so make sure to book your stay nearby with our Burleigh Heads accommodation at Burleigh Surf Beachfront Apartments and 2nd Avenue Beachside Apartments.
2019 Australian Open
From June 1 to June 14, the Gold Coast will welcome the return of the Australian Open - the World's Biggest Bowls Festival that attracts thousands of bowlers and bowls fans from all over Australian and around the globe.

Over two weeks, hundreds of exciting fixtures will take place around the Gold Coast with host clubs including the Broadbeach Bowls Club, Gold Coast Bowls Club, Paradise Point Bowls Club, Mermaid Beach Bowls Club, Southport Bowls Club, Coolangatta Bowls Club and more. National and international amateur and elite bowlers will come to take part in Men's Singles, Women's Singles, Men's Pairs, Women's Pairs, Men's Fours and Women's Fours, with huge points to be won for winners, runner-ups, semi-finalists and quarter-finalists, as well as a piece of the $250,000 prize pool.

Bowlers of all ages and capabilities are welcome to register, with spectators invited to witness all of the on-lawn action. Reigning 2018 Champions Ryan Bester, Rebecca Van Asch and more will be returning to defend their titles, as well as heaps of new talent to see and discover throughout the two-week-long competition.

The Australian Open has been held on the Gold Coast since 2015, and is now known as the World's Biggest Bowls Festival. Make sure to be on the Gold Coast for the 2019 Australian Open this June with Coast Breakz.
Brian McKnight
On June 1, globally loved R&B balladeer Brian McKnight will arrive on the Gold Coast for an unmissable live performance at The Star Gold Coast.

Brian McKnight has been gracing the world with his heartfelt music for almost 30 years, best-known for chart-topping R&B hits such as "Back at One", "Love of My Life", "6, 8, 12", "Marry Your Daughter", "The Only One for Me", "One Last Cry" and more. He's amassed 12 studio albums, as well as a staggering 16 Grammy Award nominations for Best R&B Album, Best R&B Song, Best Male R&B Vocal Performance and Best R&B Pop Vocal Performance to name a few.

Together with his band as The Brian McKnight 4 - featuring Isaiah Sharkey, Chris Loftlin and Gregory Daniel - Brian McKnight will perform all of his greatest hits live and in the flesh with multiple highly sought-after dates across Australia. One stop will be at The Star Gold Coast in Broadbeach, which you can enjoy just moments away from our Burleigh Heads accommodation.
Billy Ocean
On June 24, best-loved '80s icon Billy Ocean returns to Australia with a one-night-only performance at The Star Gold Coast.
Arriving hot off the heels of a sold-out UK tour, Billy Ocean is all set to delight his Australian fanbase with all the '70s and '80s hits he's best known for such as "When the Going Gets Tough, the Tough Gets Going", "Get Outta My Dreams, Get into My Car", "Caribbean Queen (No More Love on the Run)", "Love Really Hurts Without You", "Red Light and the rest. Despite owning a career that has spanned 50 long years, Billy Ocean is as good as he's ever been in 2019, and is not to be missed when he arrives down under.
You can catch Billy Ocean this June at The Star Gold Coast - just a 10-minute ride away from our Burleigh Beach resorts at Coast Breakz.
Be Near Broadbeach with Coast Breakz Burleigh Beach
With Coast Breakz, you can enjoy a choice of two beachfront resorts at the heart of Burleigh Heads. Burleigh Heads is a picturesque central destination on the Gold Coast near Broadbeach, Surfers Paradise, Palm Beach and more, offering The Star Gold Coast and other exciting venues and attractions within a short ride. Burleigh is home to surf-famous Burleigh Beach and tropical Burleigh Head National Park, making it a picture-perfect location if you're looking to unwind, surf and fully experience the natural beauty of the Gold Coast.
This June, find your ideal holiday in Burleigh Heads at Burleigh Surf Beachfront Apartments or 2nd Avenue Beachside Apartments with Coast Breakz.
Burleigh Surf Beachfront Apartments
Located on The Esplanade, Burleigh Surf is a stunning beachfront resort that offers 1, 2 and 3 Bedroom Standard and Superior Apartments with spectacular views over Burleigh Beach and the surrounding ocean. Each apartment features full kitchen facilities, a spacious living and dining area and private balcony, along with internet access, cable TV and convenient laundry amenities.
Savour Burleigh Beach within minutes, and enjoy a wide range of onsite facilities that include two swimming pools, a heated spa, full-size tennis court and gym, games room, barbecue area and more.
2nd Avenue Beachside Apartments
Situated close to Burleigh Beach as well as Burleigh Head National Park, 2nd Avenue offers a fantastic stay for couples, families and groups with a choice of inviting One, Two and Three Bedroom Apartments. Each apartment features a spacious living and dining area, full kitchen with laundry amenities, spa bath and private balcony, with the addition advantages of air-conditioning, cable TV and free internet access.
Onsite facilities at 2nd Avenue include two swimming pools and two spas, a sauna, tennis court and games room, barbecue area and more.
Book Directly Today with Coast Breakz
Be on the Gold Coast for the 2019 Australian Open as well as Brian McKnight and Billy Ocean at The Star Gold Coast with Coast Breakz. Our Gold Coast accommodation in Burleigh Heads offers a central stay near the best events and shows, guaranteeing you an unforgettable getaway on the Gold Coast with unbeatable access to Burleigh Beach, Burleigh Head National Park and more.
No matter whom you're planning to bring along on your Gold Coast holiday, you'll find your ideal accommodation at Burleigh Surf and 2nd Avenue - two exciting resorts next to Burleigh Beach that you can book directly today with Coast Breakz.
Find more information now by clicking on our Burleigh Heads accommodation.