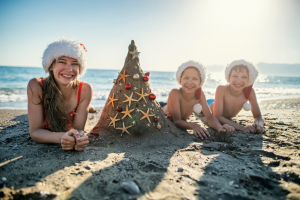 Are you planning a trip to the Gold Coast? If you want to unwind and be close to natural attractions, consider staying around the beautiful suburbs of Palm Beach, Burleigh Heads, and Elanora.

These three are close to each other. And here at Coast Breakz, we offer a choice of five fantastic apartment-style resort complexes, three of which are in the suburbs mentioned above.
Princess Palm on the Beach
Princess Palm on the Beach is at 969 Gold Coast Highway Palm Beach. This place, as the name implies, provides an absolute beachfront Palm Beach accommodation. It means that you will be able to enjoy the sun, wind, and beautiful views of the beach during your stay.

Princess Palm has a room for you whether you're travelling alone, with a friend, or with the whole family. They have four types of apartments:
One-bedroom
Two bedrooms
Two bedrooms with air conditioning
Two bedrooms with a garden view
The one-bedroom apartments can accommodate up to three guests, while the two-bedroom apartments can accommodate five guests. All rooms are modern, spacious, and self-contained in terms of design.

Each has an open-plan kitchen, lounge, and dining area and sliding door access to a furnished private balcony with stunning beach and ocean views. The apartment also has laundry facilities, a cable-ready TV, and a DVD player.

Aside from these fantastic rooms, Princess Palm on the Beach has even better onsite amenities. Swim in the resort's beautiful heated outdoor pool or relax your muscles at the heated spa connected to the swimming pool.

On the full-sized and floodlit tennis court, you can even play a game of tennis with the whole family. If you have a daily exercise routine, don't worry, you won't miss it! The resort has a well-equipped gym on site. After all that hard work, rejuvenate your body with a short sauna session.

While you're there, your kids can enjoy the games room, which has a variety of arcade games and a table tennis table. If you have small children, they may prefer to play in the resort's toddler play area. To round out your vacation, make use of the resort's barbecue facilities and beachside gazebo.
Burleigh Surf
A stunning high-rise complex stands at 238 The Esplanade Burleigh Heads Gold Coast, directly opposite Burleigh Beach. It is known as Burleigh Surf. It offers one- and two-bedroom apartments in standard and superior configurations and three-bedroom apartments in superior and sub-penthouse configurations.

So, if you're planning a grand Gold Coast vacation with the entire family and relatives, Burleigh Surf is the ideal destination. Both the superior and sub-penthouse three-bedroom apartments can accommodate large groups of up to seven people. While the apartments, from one to three bedrooms, are modern, spacious, and self-contained, the three-bedroom superior apartments are the same but located on higher floors.

The three-bedroom superior is on floor 17, while the sub-penthouse is on floors 25 to 30, providing guests with the BEST pool, beach, and ocean views. Burleigh Surf has two swimming pools, one indoor and one outdoor. Please keep in mind that the outdoor pool area will be closed until December 5th. However, you are welcome to use the indoor pool and spa. A steam room, an onsite gym, a full-size floodlit tennis court, and a games room with a pool table and arcade machines are also available. Finally, the resort has modern barbecue facilities and an undercover dining area for you to use.
Isle of Palms
There is accommodation at 2 Coolgardie Street, Elanora Gold Coast, tucked in the tropical island cove of Pine Lake Elanora. The place is known as the Isle of Palms. This Elanora accommodation includes fully self-contained townhouses and villas that provide complete privacy.

You have the option of selecting one of the following:

2 or 3 Bedroom Townhouses with Private Garden: If you have children, these townhouses are ideal. The two-bedroom option has one Queen-sized bed and two single beds, accommodating up to 4 people. If you have a larger family, the three-bedroom can sleep up to 6 people with a bedding configuration of one Queen sized bed and four single beds. Each townhouse is limited to one additional guest.

Furthermore, these townhouses have a furnished private garden. These townhouses also have a spacious setting with an open-plan downstairs living and dining area with LCD TV, a full kitchen, a laundry room, and a toilet. On the other hand, the upstairs includes a master bedroom with a private balcony, two additional bedrooms, and the main bathroom.

2, 3 or 4 Bedroom Waterfront Townhouses: Do you prefer a furnished private deck with a view of Pine Lake? Choose from any of the waterfront townhouses. These, like the previous one, have a spacious open-plan downstairs living and dining area with the upstairs dedicated to the master bedroom with a private balcony, additional bedrooms, and the main bathroom.

The two-bedroom can accommodate four guests, while the three-bedroom can accommodate six guests. The four-bedroom townhouse, on the other hand, can sleep up to 8 people. Instead of a private deck, this option includes a furnished private patio with a sandy beach area on the lake's edge.

3 Bedroom Deluxe Townhouse: This air-conditioned townhouse features a furnished waterfront deck on the lake's edge. It also has an open-plan downstairs living and dining area as well as an upstairs bedroom. It can sleep up to 6 people.

4 Bedroom Villa with Private Pool: What about a private pool and patio area with breathtaking lakeside views? It is an excellent option for large families. It has a large open-plan living and dining area downstairs, while the master bedroom has a private balcony, additional bedrooms, and the main bathroom. It can accommodate up to 8 people.
Book Your Accommodation
Have you decided on your Gold Coast summer accommodation? Check out the Coast Breakz website for a closer look. You can also book a room there.