Posted in
Accommodation
@
Jul 24th 2020 3:45pm
- By Administrator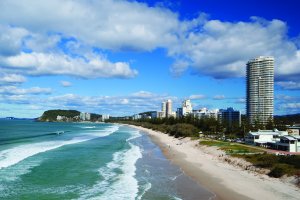 As of July 10, Queensland's borders have reopened* (finally!) allowing travellers, holidaymakers and staycationers to once again enjoy a much-needed escape, break or holiday here on the stunning Gold Coast.

As long as you haven't been in a COVID hotspot in the last 14 days (any areas where lockdown is still in place), you can cross the QLD border for travel, holiday and recreational purposes for the first time since March - and what better way to take advantage of this than with an exciting beach holiday in Burleigh Heads or Palm Beach!

We at Coast Breakz offer a choice of superb Gold Coast resorts in Burleigh and Palm Beach, each providing a range of fully self-contained holiday apartments with onsite guest facilities to take full advantage of. Our resorts are located near the beach, and won't disappoint if you're in need of sun, sand and the ocean breeze after the long lockdown period.

Whether you have a couple's break, weekend escape or a special family getaway for Father's Day (now just around the corner) in mind, save by simply booking directly with us at Coast Breakz. Our exclusive 15% off special is still on - just make sure to use our promo code RETURN15 before July 31!
What You Need to Know - Stage 3 QLD Information
Things are getting back to normal now that we're in Stage 3 of the eased restrictions, so you can book your holiday knowing you'll get to explore and enjoy the Gold Coast without missing out on exactly what it has to offer!

1.5 metre social/physical distancing is still in place for each other's safety, and visiting/meeting with people from another household is now allowed - ideal if you're planning to meet up with friends and family. Be aware, however, that you will need to apply for a QLD Border Declaration Pass if you're travelling from outside the region (to be shown with your ID when crossing the border).

But, in a quick summary, here's everything that's now back on for you to enjoy here on the Gold Coast:
beaches, parks (including playgrounds) and other natural attractions are open to the public for all recreational activity
regional restaurants, cafés, pubs, surf clubs etc. have reopened for business (some require reservations, with the majority following a designated 1 person per 4-square-metre rule allowing up to 50 dine-in customers at a time) - takeaways and deliveries also available locally
non-essential lifestyle shopping back on - shop fashion, souvenirs, gifts and more at the region's top shopping destinations (distancing precautions in place, subject to store)
beauty salons, spas, massage parlours and gyms are open again and closely following government-recommended hygiene guidelines
indoor attractions, casinos and places of worship open to the public with distancing/visitor number measures in effect

Live outdoor performances and sporting events have also started going ahead, with venues, theatres and stadiums in Queensland limiting their maximum capacity for everyone's safety. Note that public toilets and other amenities may not be open in certain areas, and that wearing a mask/face covering may be required (and provided) inside some public buildings.

With restrictions eased close to normality and the rainless winter climate now here, now is an ideal time to visit, explore and relax on the Gold Coast!
Our Palm Beach and Burleigh Heads Resorts
Be spoilt for choice with our range of Palm Beach accommodation and Burleigh Heads accommodation, spread across five stunning resorts with exclusive onsite guest facilities to take advantage of, plus beautiful beach, ocean or lake views from large private balconies.

Just head to our website to browse our affordable self-contained holiday apartments at Royal Palm Resort, Princess Palm Resort, 2nd Avenue and Burleigh Surf - these range from spacious 1 bedroom apartments to 4 bedroom apartments, in addition to beautiful lakeside townhouse accommodation at Isle of Palms Resort, tucked inside Elanora near Palm Beach.

All Coast Breakz accommodation is fully self-contained, so from the moment you arrive you'll be relaxing with a furnished living and dining area, full kitchen facilities and laundry, ceiling fans or air conditioning, cable TV, WiFi internet access and outdoor furniture on your private balcony or garden - perfect for alfresco dining and soaking in the warm Gold Coast sunshine.
Enjoy These Things to Do in Burleigh Heads, Palm Beach and More
Close to one another and ideally positioned in the heart of the Gold Coast, Burleigh Heads and Palm Beach are both stunning destinations that each offer plenty to see, do and explore. Burleigh Heads is loved for its natural surf break, shopping and dining scene, and beautiful Burleigh Head National Park, and Palm Beach won't disappoint with its pristine white sand, laid-back feel and close proximity to Currumbin Creek and Currumbin Beach.

No matter which of our family-friendly resorts you choose, relax close to the beachfront and always be just a short drive from the Gold Coast's most sought-after beaches and natural attractions. Shop in style at James Street Burleigh, explore vibrant Broadbeach and Surfers Paradise, and dine local with a fantastic choice of restaurants, cafés and beachside surf clubs along both Palm Beach and Burleigh Beach.
Save Now with Our 15% Off Special Offer - Ending Soon!
Book with confidence - our guests can relax knowing we are continuing to maintain the highest standards of hygiene and sanitation throughout our property in light of the coronavirus outbreak, including distancing and other measures that eliminate direct contact with staff and touch points, as guest health and safety is always our top priority.

For all our resorts, we offer the cheapest rates on all direct bookings, so simply call us or book online through our website to save!

Don't forget - by booking before July 31, you can knock 15% off your overall stay (any dates until December 17) by just putting in our promo code RETURN15.

Find more information, view our cheap direct rates and more by taking a moment to visit Coast Breakz Gold Coast Accommodation.

(*With the exception of Victoria & some NSW postcodes)