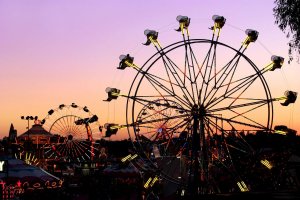 Unmissable events, including concerts, festivals, and sporting competitions, are held on the Gold Coast. Coast Breakz can assist you if you want to be close to the action and unwind. They provide a variety of accommodations at the ideal location surrounded by golden beaches and spectacular surf.
But first, here are two significant events on the Gold Coast that you must not miss.
2022 Gold Coast Show
August 26 to 28
The Gold Coast Show has a lengthy and illustrious history that dates back to the turn of the 20th century. The Gold Coast Show celebrated its Centenary in 2006 and published a book titled '100 Shows –History of the Gold Coast Show' by Fiona Staun.
From August 26 to 28, the Gold Coast Show marks 115 years. The yearly three-day Gold Coast Show is a locally motivated celebration of the agricultural past and varied contemporary culture of Queensland's second-largest city. Over 120,000 people attend the event to participate in urban and rural competitions, demonstrations, displays, free live entertainment, a carnival-like atmosphere, rides, and world-famous fireworks.
The Broadwater Parklands will host the 2022 Gold Coast Show, which will be jam-packed with activities. The Gold Coast Show is devoted to providing three days of outstanding entertainment to those who attend the show in 2022. Bring your entire family and friends, then!
James Blundell will perform at the official opening and stop by the Woodchop Bar as a special guest. Bands, musicians, and performers will fill the Triple M Loud and Live stage.
Of course, there will be all the usual agricultural exhibits, camels, ponies, animal nurseries, and alpacas. Don't miss the Channel 9 Arts and Craft Marquee's exhibition of arts and crafts and the numerous demonstrations available. Please drop by and support the talented children as they display scarecrows and characters from the pot this year.
Additionally, the weekend will feature competitions for arts, equestrian, home crafts, show dogs, and wood chops. Many classes are available for young people interested in the arts, such as graphic design, mixed media, and short films.
20th SWELL Sculpture Festival
September 9 to 18
Prepare for the largest outdoor display on the Gold Coast. The primary exhibition for the SWELL Sculpture Festival is along Currumbin Beach, where you may admire more than 70 massive sculptures. There will also be over 50 smaller-scaled displays at the SWELL Smalls Gallery on the beach, plus a cultural program at SWELL Fringe in Wallace Nicoll Park.
Along with these major exhibitions, the Gold Coast is home to other pop-up events, such as the easterlySWELL at Chevron Island, the industrialSWELL at The Boatworks in Coomera, and the northerlySWELL at Helensvale.
If the sculptures inspired your creative side, you might want to take advantage of the SWELL Masterclasses 2022. All levels of art and sculpting enthusiasts are welcome to participate in the wide variety of masterclasses offered at SWELL. There are more than 13 available, including Photography Masterclass, Sip & Sculpt With Jo Norton, Monte Lupo Head Bust Masterclass, Introduction To Still Life Drawing, Sculptural Floral Wreath, The Nuts & Bolts Of Bees Workshop and more.
Note that the most incredible artists and arts professionals bring you these Masterclasses. Therefore, don't pass up this chance.
Book your Gold Coast accommodation with Coast Breakz. In addition to participating in both events, you may enjoy a relaxed seaside lifestyle close to world-class fishing, windsurfing, surfing, and diving. Explore historic jungles or savour international cuisine in a trendy restaurant.
In addition, Coast Breakz ranges of Burleigh Heads, Palm Beach and Currumbin accommodation offer holiday apartments with all the amenities and leisure facilities you could need.
Book now!