Posted in
Location
@
Jun 12th 2019 10:43am
- By Administrator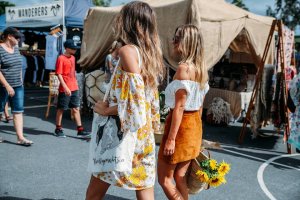 5 Best Things to Do in Burleigh Heads Gold Coast
Start planning your next beachfront escape with Coast Breakz, where we offer an unbeatable Gold Coast holiday in Burleigh Heads - the tropical centre of the Gold Coast home to a plethora of exciting things to do and places to explore.

Our Burleigh Heads accommodation at Burleigh Surf Beachfront Apartments and 2nd Avenue Beachside Apartments gives you stunning 1, 2 and 3 bedroom options to choose from - all of which offer direct access to Burleigh Beach and a number of first-rate facilities to enjoy onsite.

Have a read on the five best things to do in Burleigh Heads below, then make sure to book directly with Coast Breakz to get the most affordable price for your Burleigh Heads Gold Coast holiday.
Visit The Village Markets
No holiday in Burleigh Heads is complete without visiting The Village Markets, one of the most sought-after market experiences on the Gold Coast. Held every two weeks on the first and third Sunday of the month, The Burleigh Heads Village Markets offer a fantastic insight into the local community with live music, good food and more than enough stalls to keep you busy from morning to afternoon.

You've been warned - you won't leave The Village Markets empty-handed! There are more than 100 stalls each fortnight offering high-quality fashion and jewellery, homemade accessories and souvenirs, antiques and collectables, locally made arts and crafts, homewares and plants, books and more - all with tempting bargain prices. There is also a spread of food stalls to choose from with live local bands setting the mood. Held at Burleigh Heads State School from 8.30am to 1pm, The Village Markets offer the best way to start a Sunday morning before exploring more of Burleigh.
Experience the Local Dining Scene
Burleigh Heads is a haven of exotic dining with many harnessing the best in locally sourced produce. The main dining scene can be found around Justins Park and James Street near Burleigh Head National Park, where restaurants such as Rick Shores, Justin Lane, The Fish House, Mr Hizola's, Pepe Italia, Rabbath and The Pantry offer a broad culinary experience no matter what style of cuisine you're after.

Along Burleigh Beach on the Gold Coast Highway, more must-try restaurants include The Little Plate, Willow Dining, Commune Cafe, Anna Karena, The Surf Club Burleigh Heads and North Burleigh Surf Life Saving Club, which each offer fantastic menus for enjoying in between leisurely fun on Burleigh Beach. Whatever you do, don't leave Burleigh without treating your tastebuds at a few of the famous local restaurants, which are some of the best on the Gold Coast.
Discover Wildlife at David Fleay Wildlife Park
Spend one day of your Burleigh Heads holiday at David Fleay Wildlife Park - an unmissable wildlife attraction for all ages. Offering one of the best wildlife experiences on the Gold Coast, David Fleay Wildife Park brings nature to you with a unique assortment of Australian wildlife that includes goannas, woma pythons, water pythons, platypuses, tree kangaroos, swamp wallabies, dingos, koalas, brolgas, wedge-tailed eagles, eastern water dragons, Australian pelicans, estuarine crocodiles and lots more.

See the wildlife in gorgeous natural habitat-inspired enclosures, all well looked after by The Friends of Fleay's Associated who are dedicated to the conservational work of David Fleay, "Australia's Father of Conservation". Find David Fleay Wildife Park at the edge of Tallebudgera Creek Conservation Park - just a few minutes' drive from Burleigh Head National Park.
Picnic in Burleigh Head National Park
One of the main reasons to visit Burleigh Heads on the Gold Coast, Burleigh Head National Park is the coast's most popular rainforest park where numerous walking paths provide an immersive nature experience home to various species of local fauna and flora.

Pack a picnic and make sure to put on some comfortable shoes for your visit, where you'll enjoy a mini rainforest adventure with more than a few shaded spots to unwind or set up a picnic. See how many birds and friendly mammals you can spot, and make sure to reach the edge of the park where the rocky cliffs provide a breathtaking panoramic view over Burleigh Beach and the sparkling Pacific Ocean. More spectacular views can be enjoyed at Tumgun Lookout and Jebbribillum Lookout, both waiting to be found inside Burleigh Head National Park.
Surf on Burleigh Beach
Whether you're staying in Burleigh Heads or not, go out of your way to visit Burleigh Beach on the Gold Coast, which is popular amongst both tourists and locals for its picturesque natural headland that provides prime surfing conditions for both first-time and experienced surfers. Sunbathe on the golden-white sand with views of Burleigh Head National Park to the south, and don't forget to enjoy some of the famous local restaurants just opposite the beachfront, with two convenient options being The Surf Club Burleigh Heads and North Burleigh Surf Life Saving Club.

With its close location to Justins Park and Burleigh Head National Park, there is always somewhere to go when you need a change of pace. Relax in one of the parks or explore the many shops on James Street; if the beach is all you need, take a beachfront stroll north to find neighbouring Miami Beach, home of the popular Miami Marketta Street Food Markets.
Book Your Stay at Burleigh Surf or 2nd Avenue Today with Coast Breakz
Book a stunning apartment on Burleigh Beach today with Coast Breakz. We guarantee a Gold Coast holiday to remember with Burleigh Surf Beachfront Apartments and 2nd Avenue Beachside Apartments - two luxury beachfront resorts in Burleigh Heads that put everything wonderful about Burleigh in the palm of your hand.

You'll get to choose from 1, 2 and 3 bedroom apartments offering spacious living and dining areas, full kitchen facilities and breathtaking views over Burleigh Beach from large private balconies. Onsite at your choice of resort, enjoy both an indoor and outdoor swimming pool, a heated spa, a full-size tennis court and lots more.

Find more information now - just visit Coast Breakz Gold Coast Accommodation.